Elsewhere, the Dakar is fitted with rear steering, the GT3's 'dynamic' engine mounts and active roll control. Two new driving modes have also been introduced for use on different types of terrain: Rally sends most power to the rear axle and is designed for loose, uneven surfaces, while Off-road puts the suspension at its full height and divides the power equally front to rear. Both offer a new Rally Launch Control function that maximises acceleration on loose terrain – countering wheel slippage of up to 20%.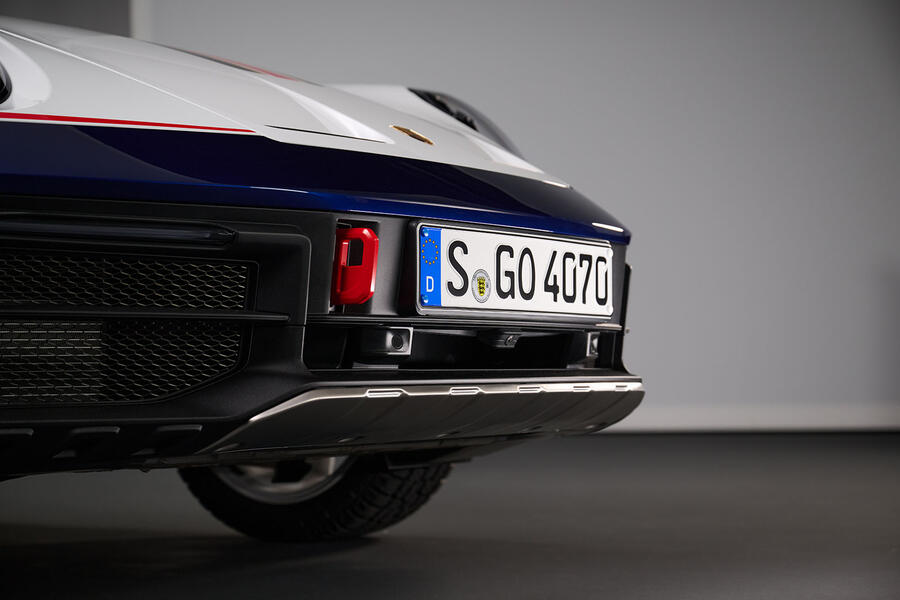 Beyond the purposeful chassis set-up, the Dakar is marked out by a radical exterior overhaul modelled on the most extreme off-road vehicles available. Aluminium towing eyes feature front and rear, as do significantly widened wheel arches and chunky steel protective plates. Other bespoke details include a carbonfiibre-reinforced plastic rear spoiler – and a bootlid lifted from the ultra-light GT3.
New for the Dakar is a bespoke Shade Green paint option, but buyers seeking a more extroverted proposition can opt for the £18,434 Rally Design Package, which brings a distinctive two-tone white-blue paint scheme with red and gold stripes, modelled on the Dakar winner's famous Rothmans livery.
The Dakar is 10kg heavier than the standard Carrera 4 GTS, at 1605kg, but stringent weight-shaving measures – including the removal of the rear seats, fitment of slimmer window glass and a lightweight battery – keep the heft to a minimum and ensure the Dakar is still a rapid straight-line proposition: 0-62mph is achieved in just 3.5sec (nearly matching the GT3) and top speed – limited by the larger-diameter tyres – is pegged at 149mph.