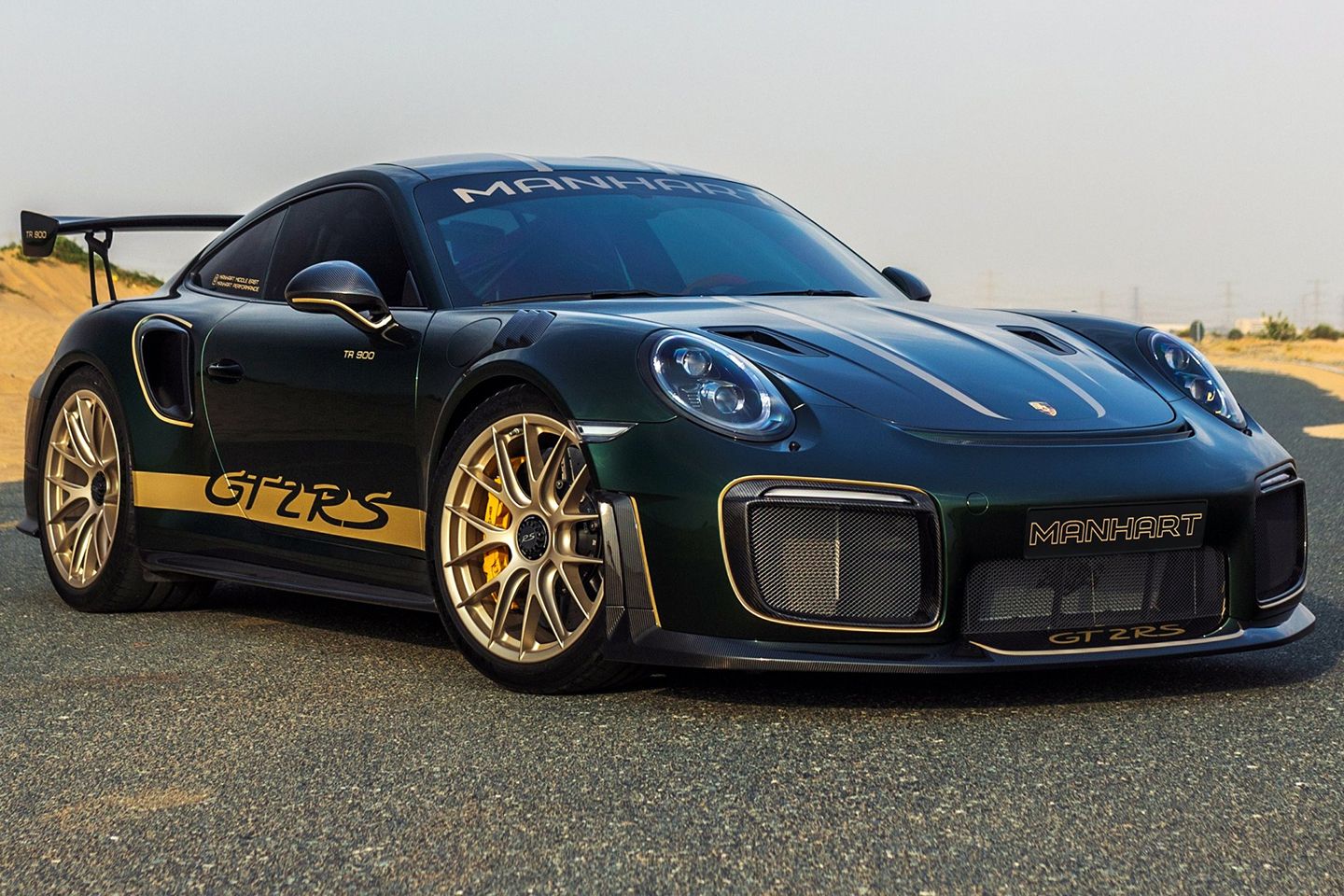 Up until very recently – last week, in fact – a 911 GT2 RS with a bit of Manthey fettling was the fastest production car around the Nordschleife. You can quibble about its status as a production car, but the performance of a GT2 RS is in no doubt at all. It can often seem that it's the GT3 and its RS version that hog the lap record headlines, with the GT2 quietly giant killing in the background. Makes you wonder what Porsche might conjure up for the 992 generation, given the precedent set by both the old car and the new GT3s.
It surely won't be this extreme, however. Manhart has not only produced a car, for once, that isn't black, it's created a Porsche 911 with almost 1,000hp. The TR 900 allegedly produces 945hp, or 245hp extra, supported by an enormous 774lb ft – up from 553lb ft as standard. That standard car being within ten seconds of an AMG One with Manthey's chassis, aero and brake upgrades. If a tyre can contain this crazy amount of power, the Manhart GT2 is going to be phenomenally fast.
To achieve almost twice the power of a new 911 GTS, Manhart has replaced the standard pair of turbos with TTH 1000 blowers, uprated the intercooler and fitted its own aluminium manifold. There are new Kline Innovation downpipes to help on the exhaust side, and Manhart says the PDK has been 'upgraded'. Got quite a lot of torque to deal with now, after all. Interestingly Manhart says the chassis is carried over unchanged, which goes to show how capable the GT2 RS – one with the Weissach Package at least – really is.
Even the Manhart cosmetic tweaks are quite minor. There's some additional carbon for the front spoiler, side skirts, and rear diffuser, but nothing looks out of place. Green and gold might be an almost common colour scheme for Porsches nowadays, though it certainly works well. And buyers could go without the Manhart decal set, giving everybody else precious little clue that this 911 has almost SF90 Stradale levels of power. It'll cost almost Ferrari money, though; assuming around £350k for a GT2 RS, the TR 900 Performance Kit is €34,999, the downpipes another €3k and all the carbon goodies together more than €20k. There are already SF90s out there for £375k. Pay your money, take your choice – right? Don't be surprised if a few GT2 RS customers are curious about almost 950hp…